Overeem & Lark Whisky Experience - World Whisky Day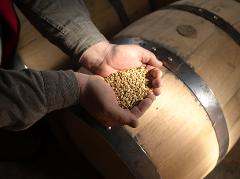 Duration: 8 Hours
Location: Hobart, Tasmania
Product code: PPNPSR
World Whisky Day
Overeem & Lark Whisky Experience
Join us this World Whisky Day for the ultimate Overeem and Lark experience with the first ever opportunity to visit both Distilleries in one day. The tour will take you to the Overeem Distillery in Blackmans Bay and the Lark Distillery in the Coal River Valley to learn about the science, art and passion that goes into making every bottle of whisky from these two iconic distilleries. You will meet the people, learn the processes and taste the whiskies that have made both distilleries leaders in the Tasmanian Whisky Industry.
The day will begin with an introduction to whisky at the Lark Cellar Door in Hobart before travelling to the first distillery of the day. After an in depth tour and tasting we break for a beautiful three course lunch at the picturesque Riversdale Estate in the Coal River Valley. After lunch, we will travel to the second distillery where you will learn about how the production differs between Distilleries and the impact that this has on the flavour profiles of the whisky, before returning to the Lark Cellar Door for one last dram.
Date and Time: Saturday 21 May 2016, 9:00am - 5:00pm
Where: Lark Distillery Cellar Door - 14 Davey Street, Hobart
Price: $220 per person
Tickets strictly limited, book now to secure your seat on this unique whisky experience.